By Chris Kelsey – Annually, Geosynthetics International names a best paper from the journal's previous volume. This allows the judging to take place carefully with the full year's published volume of issues able to be considered before any decisions are made. Journal editor Richard J. Bathurst and Chairman of the Editorial Board JP Giroud have just announced the 2013 Best Paper from Geosynthetics International, as voted on by the international editorial board:
Rowe, R.K., Abdelaal, F.B. & Brachman, R.W.I. (2013). Antioxidant depletion of HDPE geomembrane with sand protection layer. Geosynthetics International, 20, No. 2, 73–89.
This marks the second year in a row that Drs. Rowe and Brachman were authors on the journal's best paper. In 2012, their paper "A comparison of geomembrane wrinkles for nine field cases," co-authored with M.J. Chappel and W.A. Take, was named Geosynthetics International's best.


Furthermore, these awards continue to cement the reputation of the GeoEngineering Centre at Queen's University (Canada), where these practitioners have conducted their field-forward research.
The journal also named an honorable mention, or "runner-up" paper, from 2013:
Tanyu, B.F., Aydilek, A.H., Lau, A.W., Edil, T.B. & Benson, C.H. (2013). Laboratory evaluation of geocell-reinforced gravel subbase over poor subgrades. Geosynthetics International, 20, No. 2, 47–61.
In an announcement to the field, Bathurst and Giroud note:
"We thank the members of the Editorial Board for participating in the best paper selection process and congratulate the authors of these excellent papers. Each paper reflects the high standards of the Journal and is an important contribution to our geosynthetics discipline. All IGS members have free access to these papers."
Neither the editor nor the editorial board chairman are eligible for the award or vote.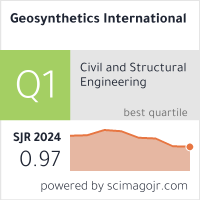 During the 10th International Conference on Geosynthetics (September 2014, Berlin, Germany), IGS Immediate Past President Jorge Zornberg highlighted how the IGS's journals stack up against other geotechnical engineering journals. Out of 268 geotechnical journals ranked by SCImago, the IGS journals ranked #2 and #4 for 2013 (with Geosynthetics International holding firmly to the latter). This is a strong testament to the quality of editing, the dedication of the community of contributors, and the overall importance of geosynthetics in the larger civil engineering field.
Congratulations to all of the honored authors.
Geosynthetics International is an official journal of the International Geosynthetics Society (IGS). The journal is published by Thomas Telford Ltd.
Visit the journal website
Visit the IGS website
– Chris Kelsey is the editor of Geosynthetica.